by Chad Schrump
Groundhog Day.  What a classic.  You remember this movie, right?  Bill Murray plays a surly TV weatherman that gets stuck in a time loop in Punxsutawney, PA and eventually falls for gorgeous Andie MacDowell.  Love that movie.  Still, to this day, one of my favorites of all-time.  If I see it on TV while channel surfing, you can bet your bottom dollar I'm stopping on it.
Isn't it the same damn thing with the Indianapolis Colts? Stop me if you heard this one before… Colts play well in first half – take a lead into the 3rd quarter, fail to make any adjustments and proceed to get their doors blown off in the 4th quarter.  Groundhog Day.  It's a formula as right as the rain – as true as the sun coming up in the morning.
I don't even know who to blame anymore. Do you?  Pagano?  Sure.  Donte Moncrief?  Why not?  Jack Doyle?  Probably.  T.Y. Hilton?  Yes.
There's certainly enough to go around.
Tennessee ended an 11 game team losing skid against the Colts last night, winning 36-22, in a game that the Colts led by 10 in the 3rd quarter.  It's just mind numbing how this continues to happen, week in and week out.  I could literally write my column before the game starts and then see how close I was to nailing it.  I would almost guarantee you that I'd be close because I know what this team is and what this team isn't.
It is a team that quits.  When things get really uncomfortable, especially on the road, the Colts will fold faster than Mike Pence in a Donald Trump staff meeting.
There's no reason in the world that Titan RB Derrick Henry should have taken a handoff with less than a minute to play, and run it all the way to the house 70+ yards for a backbreaking touchdown.  The Colts knew Tennessee was going to pound the ball into the line to kill the clock – but it just seemed a little too uncomfortable, too painful to keep fighting, right?  Instead, let's just get the killing over with and take it all in one, clean shot.
Pitiful.
T.Y. Hilton isn't a leader.  What he is, however, is the king of the disappearing act.  I have never, and I mean, never – seen a supposedly superstar player fall off the face of the Earth like this guy does.  How can a guy that is 4th in the league in receiving yards only have 1 grab for 17 yards in a division game when you're playing for 1st place?  How does that even happen?  At what point does Hilton bring it every, single week?  The Colts are essentially starting a rookie QB in Jacoby Brissett, with a less than fluent grasp of the offense and his #1 weapon disappears like that?  Inexcusable.
While we're on the subject of Brissett – can we all stop the nonsense that this is "his team now" and trade Andrew Luck for "some high draft picks?" Can we quit saying that ridiculous crap, please?  If you're still saying it – go back and watch video of Andrew Luck playing the Denver Broncos a couple years ago in the game that he was almost killed, literally, by lacerating his liver.  Go back and watch the video of him singlehandedly bringing his team back from the dead in a playoff game against Kansas City.
I think people forget what kind of talent that they have in #12 and it annoys that ever-loving hell out of me. Some "fans" are so dumb that it's frightening.  Quit being stupid.  Okay?  Just stop.  Andrew Luck will once again be your quarterback and it's going to happen, sooner rather than later.
Jack Doyle is a good football player.  He just didn't play like one last night.  At all.  Blame it on the concussion from a couple weeks ago or whatever you want but his performance last night was simply brutal.  His 3rd down drop was a serious momentum killer and his fumble fuelled an already roaring Tennessee fire.  He's depended on too much in this offense to play like he's played that last few weeks.
To be quite frank, Doyle hasn't played well since he signed his lucrative contract extension. No idea if that has anything to do with his subpar play but it's just a fact.  This popular fan favorite needs to figure this thing out and quickly.
Marlon Mack is a playmaker so why doesn't Chuck Pagano play him more? It's obvious that he's Indy's best playmaker running the football so why, at a minimum, is he not getting equal carries with Frank Gore?  Does Pagano lack the balls to have an uncomfortable conversation with Frank letting him know that Mack is going to be a larger part of the offensive equation, going forward?
Now, I completely get that you don't want to crap all over Gore because even at 34 years old, he's running well and cares as much as anyone on the entire roster – but it's apparent that large chunks of ground yardage don't come easy anymore. He's still quick to a hole and cuts well but his speed is shot.  Done.
Mack, on the other hand, looks like he's one missed tackle away from a 50 yard run, at any time.  Pagano has got to get him more involved.   If he's not playing because he doesn't block well enough, then coach him to be a better blocker.
Do your job, Pagano. Coach the kid!  Give this team a chance to win.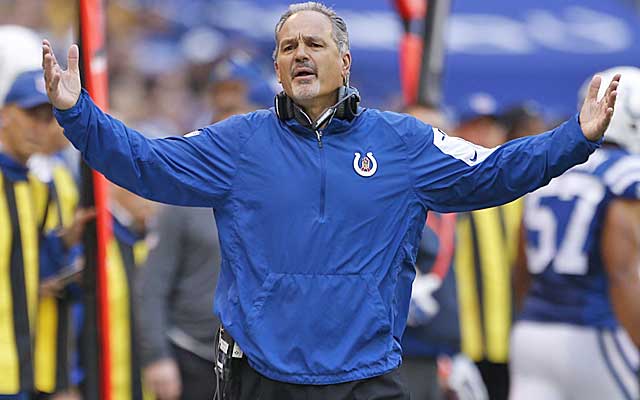 This football team has been outscored by 80 points in the second half of football games this season. 80 points.  That equates to a couple touchdowns per game.  That's not something any team can overcome, much less this one!  That's all on this pathetic coaching staff
Come on, Chuck… Figure out a way to control the ball some. Get your defense off the field.  Run Mack more.  If he's going to drop touchdown passes, play Moncrief less.  Make a worthwhile adjustment coming out of halftime now and then.  Get in players' faces when they screw up.  Quit encouraging all of the time.  Toughen up.  Expect good play.  Hold players accountable.
Your job is on the line, Chuck.  This will be your last head coaching job in the NFL if you don't figure some things out.
Like Bill Murray said, "You want a prediction about the weather? I'll give you a winter prediction: It's gonna be cold, it's gonna be grey, and it's gonna last you for the rest of your life."
We're 6 weeks into the 2017 season guys and we've essentially seen the same game, all season long.
Unlike Groundhog Day, none of us can keep watching this movie. This isn't timeless.
This is just bad football.